Immanuel Lutheran School




Academic Excellence Alongside Christian Education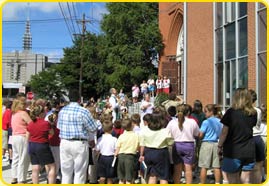 The mission of Immanuel Lutheran School is to provide a loving environment of academic excellence for children, while developing in them and their families a lasting relationship with Jesus Christ.
Immanuel Lutheran School is renown for academic excellence. Academics and Christian education are at the core of who we are and what we offer our students - today, yesterday and tomorrow.
If you're looking to place your child in pre-school or in K-8 in the Bristol, Connecticut area, Immanuel Lutheran School may be the right choice for you. Contact us today for a personal tour of the school. Or, visit one of our upcoming open house events.
Learn more about Immanuel Lutheran Church.