Immanuel Lutheran Church




Faith. Fellowship. Helping Others.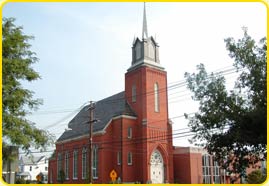 A life filled with the love of God and meaning is a life well-lived.
The members of Immanuel Lutheran Church have been blessed with over a century of faith and fellowship together. What wonderful opportunities and challenges our Gracious God has given us to live meaningful lives in His eyes. And, God is present in all that Immanuel does. His great works are fulfilled through the people here each and every day, each and every year.
There are so many ways for you to become a part of the Immanuel family through fellowship events, worship services, music groups and programs and other enjoyable activities. We rejoice in every opportunity to proclaim the Gospel of Jesus Christ to all people, whether it is through our Worship, Christian Day School, Youth Ministry, Senior Saints, Deaf Ministry, Scouting Programs, Sunday School, Adult Bible Classes, Music or our Building Hope II project.
In whatever way God affords us the opportunity to proclaim His loving forgiveness, we consider it a gracious occasion to serve Him and His people. Become a part of Immanuel Lutheran's church family, deepen your faith and begin to live your life well.
Contact or visit us anytime >>