Immanuel Lutheran's Worship Services



Coming Together in Worship!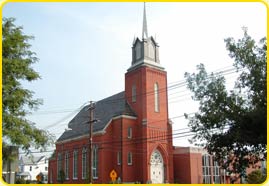 We are strengthened through the time we spend worshiping our Lord together. Join us in worship anytime.
Summer Worship Service Schedule: During the summer months, from the first Sunday in June through the last Sunday in August, we join to worship together in one service each Sunday at 9:00 am. Worship is followed by bible study with Pastor Karner at 10:30 am.
Regular Worship Service Details:
Sunday Worship Services - 8:00 AM & 10:45 AM

Holy Communion is celebrated in the 8:00 AM services on the 1st and 3rd Sundays of every month and in the 10:45 AM service on the 2nd and 4th Sundays of every month. Note: If there is a 5th Sunday in a month, Holy Communion is celebrated in both the 8:00 AM and 10:45 AM services (and at other special services as announced).

Join Pastor Karner for Bible Study beginning at 9:30 AM every Sunday in the old school (use the side basement entrance).

German Worship Service - To be announced. (1st Sunday of every month - temporarily suspended.. stay tuned...)
When you worship at Immanuel Lutheran Church, please keep in mind...
Hannah's Room is open as a parent room for all a.m. services.